This article is an update from an earlier version about the 2010-2019 decade, see here.
Did 31 December 2020 complete the past decade? Or have we been in a new decade since 1 January 2020? Whatever the answer, for publishing reasons we can pick and choose whatever suits best.
Therefore for this article I look into the decade from 1 January 2011 to 31 December 2020 and compare the performance of the best football clubs in the UEFA Champions League in that period.
Measuring success in the Champions League 2011-2020
In a world full of advanced stats, Elo figures and relative strength indicators I rely on a simple stat line: total points collected per club.
The approach implicitly rewards advancing to further rounds and winning it all. The team that plays more rounds has more opportunities to win games and collect points. Thus I avoid arbitrarily designating special value to certain thresholds like reaching the semis or winning the cup. I also refrain from points per game/season approaches. Durability shall be rewarded, too.
Real Madrid, FC Bayern and FC Barcelona have been a class of their own from 2011-2020
The following figure displays the cumulated points of all teams having played at least one match in a Champions League group or knock-out match from 2011 through 2020.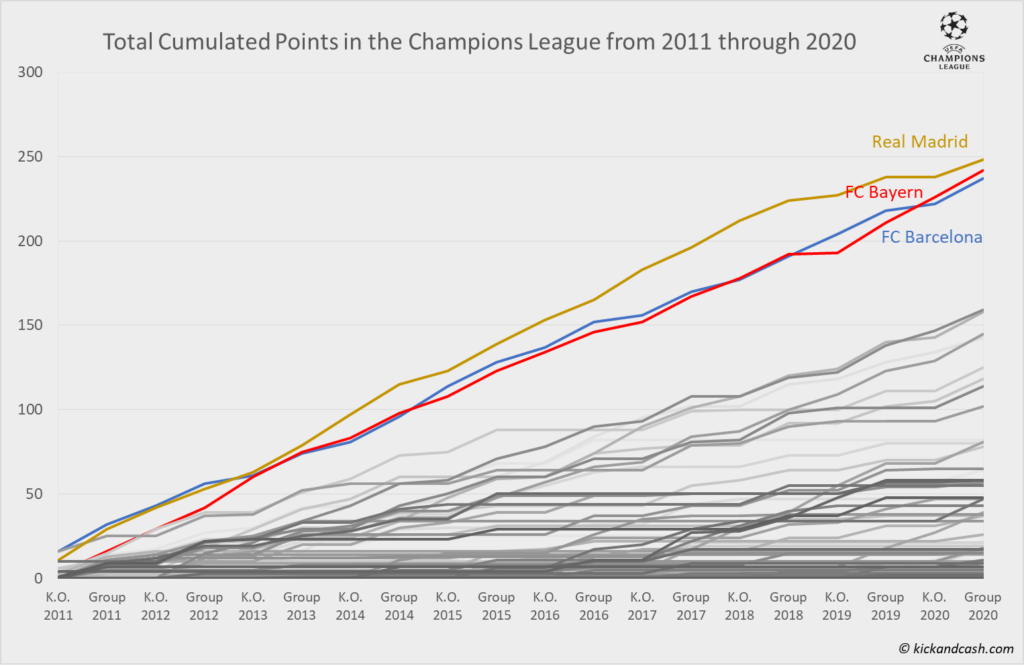 With 15 points in the knock-outs in spring and summer 2020 Bayern came close to the top, but Real could carry their margin through the goal posts. 248, 242 and 237 total points of the top teams is a tremendous achievement equaling roughly 24 points per year. Or put it this way: 5 wins in the group stage and another 3 in the knock-out stage. On average. The three super giants also combine for 8 of 10 trophies, another incredible achievement.
It remains to be seen to what extent the three powerhouses can repeat their stellar decade. Or which one of the teams on the chase can pull them off the podium. From 2011 to 2020 these 17 teams completed the top 20 out of 82 teams that participated in the ten Champions League seasons.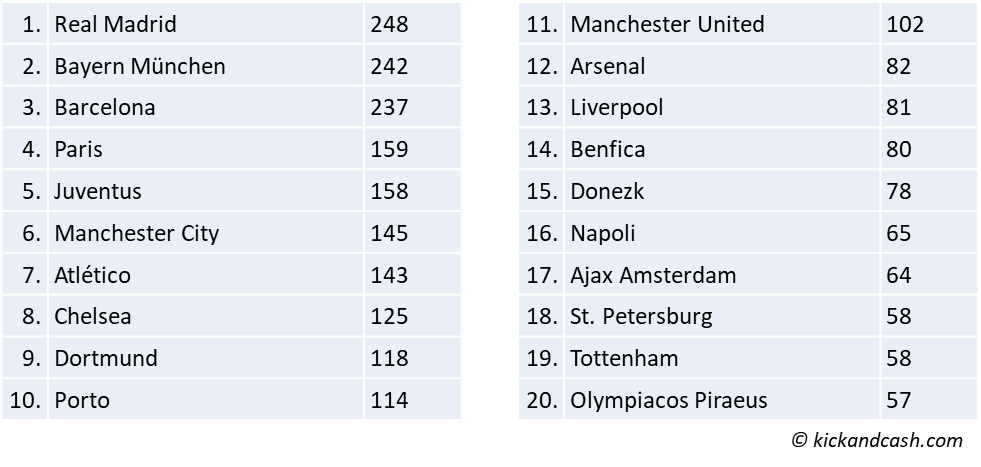 La Liga trumps all in Champions League success from 2011-2020
Clustering the clubs by their home leagues, La Liga stands out led by Barcelona and Madrid. 6 trophies and 746 points mark a substantial lead ahead of the English Premier League with 2 trophies and 610 total points and the German Bundesliga with another 2 wins and 552 total points.